Home Maintenance Tips: Keep Your Home in Tip Top Condition
Buying a home is one of the biggest decisions and purchases a person may make. Not only does it come with the financial responsibility of paying a mortgage, but also making sure to keep up on your home maintenance. If you are a homeowner it is important to regularly get your home serviced and cleaned to keep it looking its best. If you live in a rainy climate like Seattle, WA then having your gutters and roof cleaned, or your foundation inspected regularly is imperative, and the same goes for homes in other climates. To help you keep track of the projects that need to be completed around your home, we've created a list of home maintenance tips to keep your home looking its best.
Deep Clean Your Home
When we are busy in our day-to-day lives, maintaining cleanliness of our homes is often low on the priority list. You probably keep your home tidy, but when was the last time you did a true deep clean? After a few months of casual cleaning, there comes a time when deep cleaning your home can no longer be ignored. There are many reasons why a clean and hygienic home is necessary for you and your family. It is important to have your home deep cleaned at least once every couple of months. This means cleaning appliances, dusting every nook and cranny, mopping the floors, vacuuming, wiping down all surfaces, cleaning your windows, and much more. This can often be a daunting task and hiring a professional cleaning service may be the best option if you haven't had your home deep cleaned in a while. You may also want to consider hiring a cleaning service to come deep clean your home regularly every month.
Have your foundation inspected and repaired
Whether you are getting ready to sell your home, or happily spending your 10th year there, having a home foundation inspection is a must for home maintenance tips. The foundation of your home is very important and any potential problems with it could be serious. This is why having a regular foundation inspection is key to keeping your home in its best condition. If you want to check the foundation yourself, you need to know the signs of what to look out for. The main issues to watch out for are bulging in your exterior walls, cracks in your foundation, sloping floors, leaks, and cracked moldings around doors or windows. If you find any of these problems in your home call a professional and have your foundation repaired.
Reseal your countertops
Just like your home, granite and marble countertops can be an expensive investment, and they require some ongoing home maintenance. to keep them beautiful. Reapplying sealant is the best way to ensure your countertops avoid stains or damage. Many professionals recommend sealing your granite or marble countertops at least once each year. The more you use your countertops, and the type of cleaner you use on them can affect how often you need to have them professionally resealed.
It is important to note, the color of your countertop is one of the main factors that can determine the frequency of resealing. Dark colors tend to be denser than light-colored granites, meaning they are less porous and won't stain as easily, and they also hide stains better than lighter colors. The lighter the countertops you have the more often they may need to be professionally sealed. If you have been living in your home for a significant period of time and have yet to have your granite or marble countertops resealed, reach out to a professional for advice and assistance.
Get your carpets cleaned
Most homes have carpet in at least a few rooms, if not most, giving those rooms a warm and inviting feel. But if you have carpet in your home it requires regular home maintenance. In addition to regular vacuuming and spot cleaning, it is equally important to have your carpet professionally cleaned every year. Having your carpets professionally cleaned can extend their life, remove dust mites and bacteria, and prevent indoor allergies. It can also give the carpet a new look and feel. If your carpets are looking a little dated, or you're finding it more difficult to breathe in your home it's time to call in a professional to deep clean your carpets.
Test smoke detectors
Smoke detectors are vital to keeping you and your loved ones safe in case of an emergency. They are also commonly overlooked and aren't tested or replaced as often as they should. Smoke detectors don't need a ton of maintenance but they should be checked once a month and their batteries replaced at least once a year, according to the U.S. Fire Administration. As well as replacing the batteries and testing your smoke detectors, they also need to be replaced at least once every 10 years, even if they seem to be working perfectly fine. Staying on top of your home's safety equipment is very important and following these home maintenance tips can help keep you and your household safe.
Have a roof inspection completed
If properly maintained, your roof can have an extensive lifespan. A well taken care of shingle roof can last up to twenty years without needing to be replaced, while a tile roof can last up to one hundred years. But taking care of your roof requires periodic inspections and repairs. The NRCA recommends a self-check at least twice a year in addition to professional inspections once every three years. Check your roof regularly after severe weather or storms. You will want to look for missing shingles, leaks, or water stains. If you find that your roof has any of these damages, call a professional quickly to have repairs done. Additionally, if you have lived in your home for 10 or more years and have not had your roof replaced, consider hiring a trusted roofing company to give you a new roof. This will make your home look new and help to keep it in its best condition.
Clean and repair your deck and patio
Our homes are often exposed to many elements throughout the year. Certain weather conditions can cause your deck to build up dirt and grime. A deck is a great addition to any home, but it also needs regular cleaning and home maintenance to remain habitable and safe. It is recommended that you clean your deck thoroughly, or have your deck professionally cleaned, at least once a year. It's also important to inspect your deck periodically for soft or splintered spots, loose nails, and deck attachments, and split or rotten planks. If you find any big problems that could cause a hazard to you or your family, call a professional to come and fix any damage right away.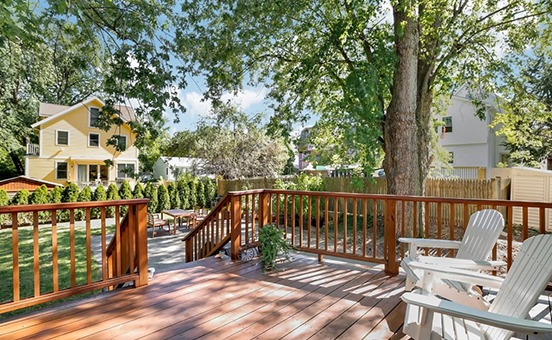 Test your sump pump
A home maintenance tip that is often forgotten is testing your sump pump. Many homes use sump pumps to prevent groundwater from getting into the basement or crawl space. Extra water can build up along your foundation, especially during the rainy months. If you live in an area with a lot of rain you should test your sump pump often. There are two types of sump pumps – one with two cords and one with a single cord. If you have a sump pump with two cords you can test it by tracing the two electrical cords of the sump pump. The pump cord plugs into the back of the float cord plug. Both cables should be unplugged, and only the pump cord should be plugged into the outlet. If you hear a humming sound when turning on the pump, the pump works.
If you have a single-corded sump pump, pour about 20 liters of water into the pump pit until the float rises. Once the float has risen your pump should kick on. While the pump is running the water must be pumped out and the pump will turn off once it has removed all the water. If your pump removes all of the water successfully then repeat the process. The water should drain again letting you know your sump pump is good to go. If anything is not working or you come across any problems when testing your sump pump then you should call a professional and have your sump pump serviced immediately.
Clean and reseal your driveway
To keep your driveway looking its best it is important to clean it regularly. The best way to do this is by pressure washing it. Pressure washing can be a difficult task, and if you have never done it before, hiring a pressure washing service can ease the process and ensure it gets done correctly. In addition to having your driveway cleaned, it also needs to be resealed. You should seal your driveway every 1 to 3 years. Driveway sealing is an important part of driveway maintenance, but it's not the only thing you need to keep up on. If your driveway has any cracks or potholes you will need to fix those before you apply any sealant. Additionally, if it has pre-existing damage you should contact a professional who will evaluate and fix your driveway before resealing it.
Service appliances
Appliances are very helpful to our everyday lives, and we often forget that they need to be serviced. Servicing your appliances regularly will keep them running smoothly and last longer. It is recommended that you have your dryer vent system professionally cleaned by an appliance technician every winter. This can help prevent the possibility of a fire hazard. In addition to servicing your dryer vent, you should also vacuum your refrigerator coils and have your washing machine and dishwasher cleaned thoroughly. Keeping up on appliance maintenance will ensure your appliances last longer and will save you money in the long run.
Taking care of your home is an important part of being a homeowner. If you are planning on selling your home soon, or even years down the line, keeping your home looking its best will ensure your home will sell for more. Lean on the professionals to help you get your home maintenance tasks done and keep your home in tip-top shape.
Originally Published on Redfin
---
---